Here is the 4th edition of our Seed Ambassadors Project Seed Saving Guide.
"A Guide to Seed Saving, Seed Stewardship & Seed Sovereignty"
Seed Saving Zine 4 hand out (3.8 MB PDF) This hanout formated version is your best choice for printing and reading if you do not have one of those fancy zine staplers.

Seed Saving Zine 4 duplex (3.5 MB PDF) This zine formated version is for printing in a duplex printer and folding into a Zine. That is why the pages seem to be in a wierd order. If your printer does not have duplex ability you can print it one page at a time, flipping each page over to print the back side.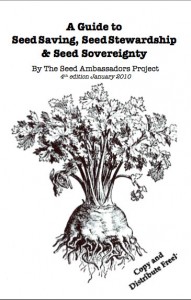 If you would rather us send you a copy that we have printed, please send us $4 to cover printing costs and to help support the Seed Ambassadorts Project. You may also order a copy along with your seed order here at this site under the Books category. If you want to order a bunch of copies for a saving workshop you are teaching, contact us and we will send you what you need for what it costs us to print them.
Enjoy your seed saving adventures