Hi Everyone,
Spring has sprung, and now it's time to propagate! (Plants, that is.)
This year's Spring Propagation fair will be this Sunday, March 27, at Lane Community College in Eugene, from 11 – 5.
Come share and gather seeds, fruit tree scion wood, and other plant propagation materials with your friends and neighbors.
More information is below, including workshop schedule. For more information or to volunteer, please contact victorygardensforall@gmail.com
Hope to see you this Seedy Sunday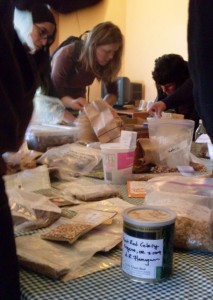 We need about 20 people to help us set up either on Saturday night from 3 until 7 p.m. or on Sunday morning from 8 a.m. until 11 a.m. An additional 20 people are needed during the fair, 10 stations to person, with 2 shifts.
We will have the scion wood and root stock to make trees, including cherry, plum, apples, pear, peach, persimmon.  There will also be folks there to teach grafting and to graft your tree for you.
If you have gooseberries, currents, fig, grapes raspberries, strawberries,  or perennial herbs, please  bring them along to the fair to share with others.  Different plants work differently.  Please send an email to victorygardensforall@gmail.com  if you want to know how to bring parts of your particular plant or how to thin them.
Participate in the semi-annual seed swap, where you can come and avail yourself of locally grown seeds, adapted to our area by all the folks that save seed in our area. Bring seeds if you have them; bring envelopes for seeds if you don't.
Speakers for the propagation fair:
11:00 Joshua will be speaking on high yields from a food forest.    A food forest is fruit and nut trees, mixed with berry bushes, perennial vegetables, vines, designed for an ecosystem which as in a forest, does not need fertilizer, pesticides or fungicides to produce wonderful fruit.  It is  edible landscaping.
12:00 Jude Hobbs will be speaking on plants for edible landscaping.
12:30 Jan Spencer speaking on the river road community, model for other communities.
1:00 Grafting workshop with Nick Routledge
2:00 Native plant talk with Bruce Newhouse:  How to attract native pollinators and other wildlife to your garden using native plants.
3:00 Nick Routledge and Sherry Brown talking about medicinal and pollinating herbs, why they belong in every garden.