We arrived in Frankfurt, Germany at 6pm on Thursday (11/23), after leaving LAX at about 8pm Wednesday night. Entering Germany was easier than any country I have ever traveled to. No "embarkation card" as is common in Southeast Asia, no visa, just a quick glance at our passports, a question of "where are you going?" (answer: all over!), a stamp in our passports and we were in. No one was staffing the customs booth (!), so we had no one to ask what, exactly, counts as "goods to declare," and so the seeds and garlic remained with us. I think the smell of garlic may be with us for a long time, as it was packed tight in our bags and its perfume permeated the ziplocks.
We found a cheapish hotel room (40 Euros = $53US) and promptly fell asleep. It was almost like Thursday didn't happen. Thanks to the wonders of jet lag, we awoke at 3am ready to start the day. I've always wanted to be a morning person, so I hope it will last!
We spent early Friday morning walking around exploring the city, and then, once the bus and train depots opened, trying to figure out the easiest and cheapest way to travel the 800 km to Copenhagen. We decided to take the bus — a 15 hour ride from 2pm until 5am the next day!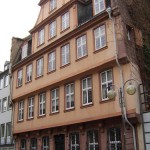 The afternoon departure allowed us to explore the city some more, and we took this opportunity to visit Johann Wolfgang von Goethe's childhood home museum. The house was full of period furnishings and had amazingly detailed iron banisters and woodwork. A building next door housed a small art museum that featured artists that Goethe enjoyed, was well as some art that he inspired. I never thought I would see so many paintings of one man in one place!
After that we wandered into the busy Christmas market, where we drank hot cocos amidst the bustle of consumerism, then walked back to the center of town to catch our bus.
Once on the bus we discovered why the 800 k (about 500 mile) drive was to take 15 hours: the drivers stopped for 30 minutes every two hours, and twice we stopped for one hour! In Hamburg, all of the other passengers changed busses and so we spent the last five hours of the ride as the only two passengers on a bus that could hold 50. We were able to spread out and be comfortable so we slept pretty well. We awoke at 5am in a new city, in a new country, in the wee hours of the morning, ready to continue our adventure.